History of the 1966 Chevy II
The 1966 Chevy II was created to compete with Ford's Fairlane which had a been a hot car for years until now. The Nova significantly different in '66 than years before, still came with the 4 and 6 cylinder motor but now came with a (L79 RPO) 327ci V8 350hp corvette engine. This engine was not available in 1967. Still available the (L30 RPO)327ci, 275hp (@ 4800rpm) and the 283ci V8. The corvette 327 put out 350 horses @ 5200rpm and 360lbs-ft of torque @3600rpm. The L79 corvette engine option jumped the base price from $2,480-$3,662. The 1966 Chevy II came with a 4 barrell carburator, a manual four speed gearbox, had limited slip differential, power steering and brakes, heavy duty suspension, air conditioning, deluxe bucket seats, a console and full instrumentation, the SS package had options like wheel covers, electric clock, special interior, exterior trim and emblems and a deluxe steering wheel. This was the first year that seatbelts also became standard equipment.
Car Life Magazine tested the L79 back in '66, it went 0-60 in 7.2 seconds, and handled the quarter mile in 15.1 seconds at 93mph. Its top speed was 123 mph. The L30 was testdrove by Motortrend Magazine in '66 and went 0-60 in 8.6 seconds and did the quarter mile in 16.4 seconds at 85.87mph.
The Chevy II had many different models, from sport coupes to sedans to stationwagons. The cheapest was model #111111, this was the 2-door sedan, it sold for $2,027 with the 4 cylinder motor, with the 283 ci V8 model #11411 it sold for $2,187. The Chevy II Series 100 4 door sedan model #11469 sold for around $2,234 and weighed 2,790lbs. There were two station wagon models produced, #11635 cost $2,623 and the series 100 #11435 cost $2,536. They were available with only 6 or 8 cylinder engines.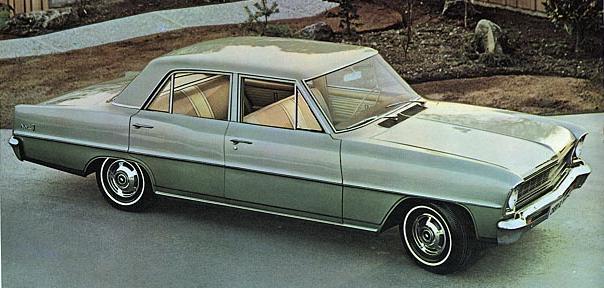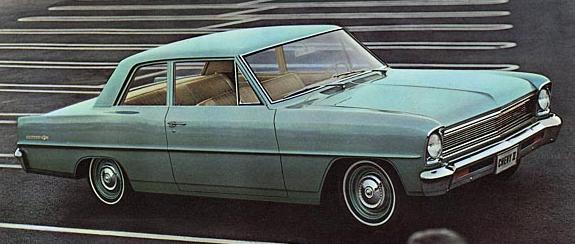 More Nova pictures around the internet here.
Engines:
153ci V4 90hp
194ci V6 120hp
230ci V6 140hp
230ci V6 155hp
283ci V8 195hp
283ci V8 220hp (L77)
327ci V8 275hp (L30)
327ci V8 350hp (L79)
FACTS:
Around 20,986 Chevy II Supersports produced
Total production this year around 172,485
2/3 of production were 6 cylinder
$310 to add air conditioning
$42 power brakes
$84 power steering
$174 powerglide transmission
Speed and Gas level were the only needle indicators on the dash
$57 for a push button AM radio
51,585 4 door station wagons were sold
10,589 sold with the 327ci
53,538 had a 3 speed transmission
5,744 had a M20 4 speed
4,303 had a M21 4 speed
1,475 came with dual exhaust equipment
15 exterior colors including ermine white, sandalwood tan, cameo beige, madeira maroon, mist blue, aztec bronze, lemonwood yellow, chateau slate, tropic turquoise, artesian turquoise, tuxedo black, marina blue, danube blue, willow green and regal red
4 interior colors were either red, fawn, turquoise or blue
RARE OPTIONS IN 66
RPO C08 exterior soft trim roof cover 605
RPO K76 A/C generator 61 amp 132
RPO M01 Heavy duty clutch 362
RPO M55 Transmission Oil Cooler 111
RPO U75 Rear power antennae 239
Dennis Brittell's 1966 Chevy II SS